Events
Demonstrate Broader Impacts at GROW Workshop
GROW Saturday Workshop -
2020: Back to the Future - Saturday, February 22, 2020
More information coming soon on how to facilitate an activity session!
Join us at KSUnite! Wednesday, November 6, 2:00 - 2:40 pm at the Student Union Room 209!
Our fearless leader, Dr. Chardie Baird, will present at 1 of 2 inclusivity-focused sessions. Her talk, "Collegiality & Inclusivity: Tips for & Practice Being An Ally" is from 2 - 2:40 pm in Student Union Room 209. Can't wait to see you there!
https://www.k-state.edu/diversity-inclusion/ksunite/2019/Inclusivity1.html
Demonstrate Broader Impacts at GROW Workshop
GROW Saturday Workshop - "It's Elemental, Dr. Watson!" - Saturday, October 12, 2019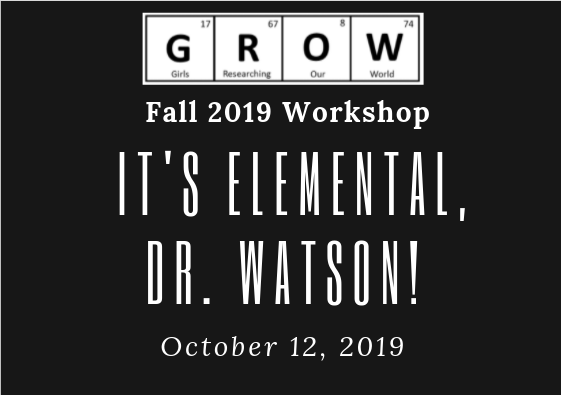 K-State faculty, staff and students are invited to design and facilitate hands-on science, technology, engineering and/or math activities for middle school students at the spring 2019 Girls Researching Our World, or GROW, workshop on Saturday, October 12th, at the K-State campus in Manhattan. This is a great opportunity to demonstrate the broader impacts of your research and support girls' interest in STEM! KAWSE is happy to provide letters of support to grant agencies for those who collaborate with us. Interested parties should contact the KAWSE office at kawse@k-state.edu as soon as possible, no later than September 20, 2019.
This year's theme is, "It's Elemental, Dr. Watson!." 2019 is the International Year of the Periodic Table, marking the 150th anniversary of the discovery of the periodic system. Our fall GROW Workshop will explore how the chemical elements and/or the periodic system influence science, technology, engineering or math. Your hands-on activity should be related to this theme. The KAWSE program coordinator, Morgan Greene, is available to help brainstorm activity ideas and relate volunteers' area of expertise to the theme of the event. KAWSE also can help find student volunteers to assist with the activity.
Activity sessions are 45 minutes long, attended by 10-15 middle school students at a time, and occur at 10 a.m., 11 a.m., 1 p.m. and 2 p.m. **NOTE: We are currently in need of facilitators available for the afternoon sessions!** A GROW student employee will chaperone each group to and from sessions, and will be present in the activity to help facilitate as needed. A free lunch will be provided at noon for all volunteers. A small budget for activity supplies is available. Activity details need to be finalized by September 20, 2019. Expected registration is between 80-100 middle school girls, grades 6-8. The GROW program is organized by the K-State Advancement of Women in Science and Engineering office. Student registration information is available on the GROW website.
Interested facilitators should complete and submit an Activity Planning Guide as soon as possible, no later than September 20, 2019. Activity details can be edited until September 27, 2019. Our Workshop Information Guide is a useful resource as you plan your activity.
Activity Planning Guide - Excel File
Activity Planning Guide - Online Form
Questions? Contact the KAWSE Office!
Women of Distinction Recognition Ceremony
September 19, 2019, 3:30-5pm
Kansas State University Student Union Bluemont Room.
This annual event, hosted by KAWSE and the Women of K-State, recognizes K-State women faculty and staff for academic achievements, such as earning tenure and promotion, being promoted to full professor, or winning a university wide award.
---